Attach three rubber bumpers to the lower half (insert a square nut into the t-slot and a bolt through the bumper).
Start the socket cap bolts into the ends of the five posts.
Attach the middle back post and insert two nuts into the top of the back beam (these will be used to mount the Raspberry Pi).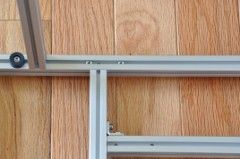 (The bolts are tightened by inserting the wrench through the access hole.)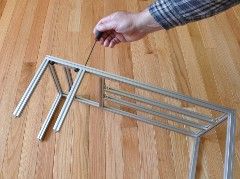 Flip the bottom half over and attach the four rubber feet.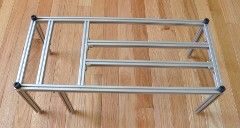 Flip the case back over and attach the PSU hold-down bar.  Also, insert two square nuts into the side of the middle beam (alternate mounting location for the Pi).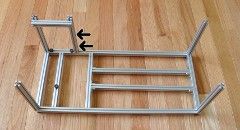 Attach the standoffs at the appropriate locations for your version of the m-board, and adjust the spacing of the standoff support beams.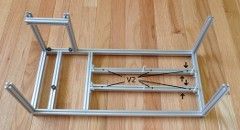 Attach the 32 nylon spacers (with washer and 14mm bolt) to the h-board support bar.
Attach the support bar to the underside of the top half.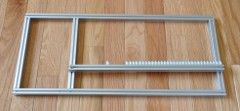 Slide the top half onto the posts (make sure the nuts for the Pi are still in the middle post!).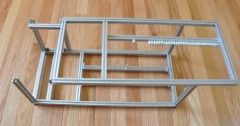 Tighten the bolts in the top of the posts.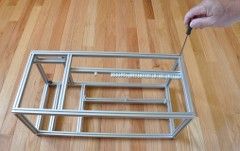 Attach the fan mounting tabs to the case.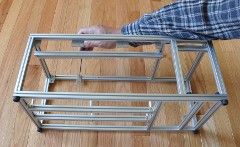 Mount the m-board to the standoffs and plug-in the h-board(s), being careful to adjust the position of the support beam and the individual pegs.
Attach the spacers to the Raspberry Pi, the Pi to the mounting plate and the plate to the case.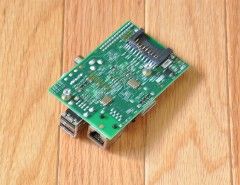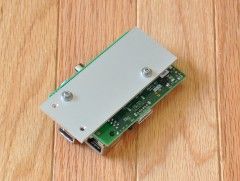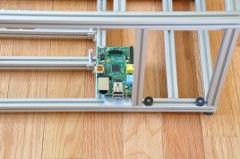 Fasten the h-board hold-down plate.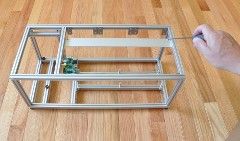 Mount the fans and PSU.